Byers Funeral Home Inc.
Launched: March, 2018

The Client:
Byers Funeral Home Inc. is a family-owned business located in South Mountain, ON. They provide full funeral services. 
The Problem:
They were in need of a redesign on their website, and wanted an e-commerce option to allow customers to order homemade sympathy cards from a local business.
The Solution:
I used soft greens and light background to give a calming feel to this website. The focus is on recent obituaries, the sign-up form for the obituary email list, and on the services they offer. 
This is an e-commerce site, as Byers has collaborated with a couple of local women who make and sell homemade cards. A selection of sympathy cards are available for purchase on the site, and customers can add on a handwritten note from a dropdown list. Cards are delivered to Byers to be presented to their recipients.
The Result:
Owner Vicky Byers is very pleased with her website, especially how easy it is for her to moderate condolences and add obituaries.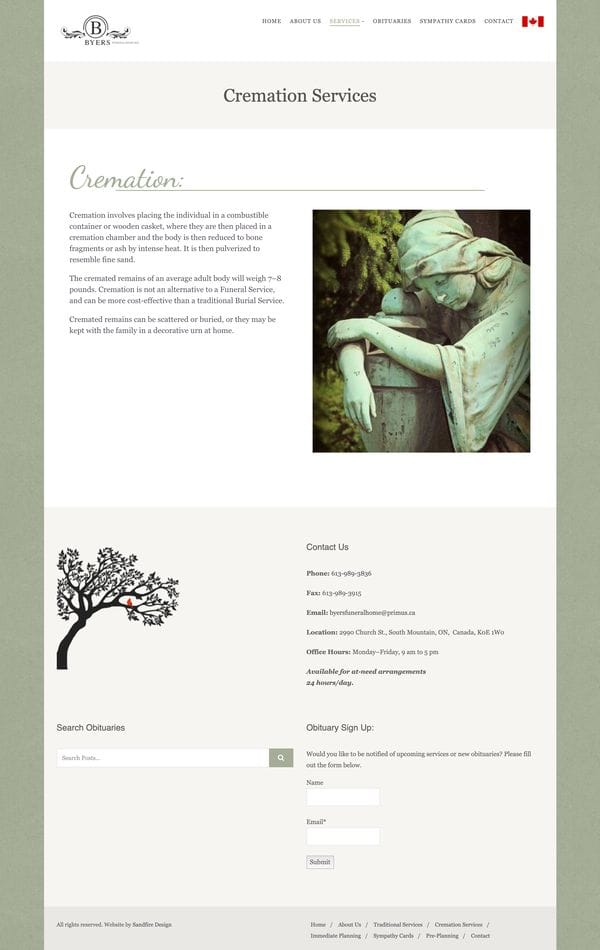 Traditional Services Page